ABOUT US
We are a dedicated team of professionals who work hard to develop long-term, close relationships with our clients. We ensure our clients' financial requirements are catered for throughout the differing phases of life by applying our knowledge and professionalism to all aspects of the financial planning process.
Our success has principally been based upon people trusting us over many years to carefully look after their money and finances. Indeed, many of our clients today are those we started with over 40 years ago (and now their children and their grandchildren too).
Services We Offer
We provide advice to both individuals and businesses on most aspects of financial planning, covering such areas as:
Investment and Savings – for income or growth (or a combination of the two) using the most suitable tax-efficient wrappers
Retirement Planning – "self-invested" personal pension plans are a speciality of the firm – to both individual and corporate clients
Life Insurance and "Critical Illness" Insurance – both individual and corporate
Income Protection Insurance – to protect your standard of living through a long term illness/accident – for both individuals and corporate clients
Inheritance Tax – mitigation and planning
Private Medical Insurance – both individual and group/corporate schemes
Plan Reviews – a review of existing plans and portfolios; we often find that whilst clients have taken out plans to meet their needs, they are quite often 'out of date' or perhaps more expensive and not as generous in terms of cover compared to a current, more modern product or service. A thorough review of such existing plans is therefore, generally, an immediate need
The Way We Work
Our first initial contact meeting or discussion is generally free (unless advised otherwise). In this meeting we will see if we can be of assistance to you and also whether or not you feel you could work with us.
When we meet, we will usually start off by discussing your general aims, ambitions and requirements before subsequently going on to conduct a thorough financial review of your circumstances using a fact-find process. This will include ascertaining a detailed record of your current financial background (family circumstances / assets / liabilities), your attitude to risk and also your capacity for loss.
Following our review, we will take time to consider your current situation and needs in detail, before providing a recommendation report. We will then discuss these recommendations with you before agreeing the priorities and what should be done, when and how.
We will also discuss our plan implementation and plan review services and the relevant fee scales.
Any meetings required can take place at our offices in Chelmsford or a mutually-agreed venue. If you are based in London (either by work or residence) we have meeting rooms available for our use close to Liverpool Street Station in central City.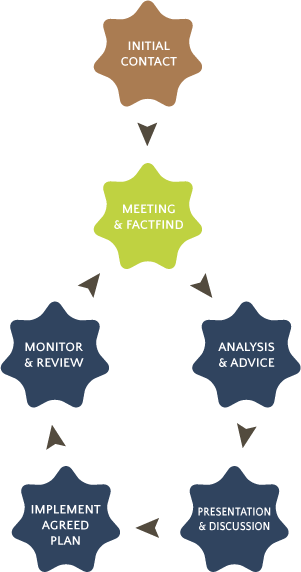 The charges for our advice are simple, straightforward and can be structured in many ways to suit you. We offer a tiered fee structure dependent on your advice requirements.
Needless to say, whatever route is ultimately chosen by you, we will always disclose our fees in a totally clear and transparent manner and agree them with you before any advice is given or any transactions are completed.